Checklist to Prepare for Home Interior Painting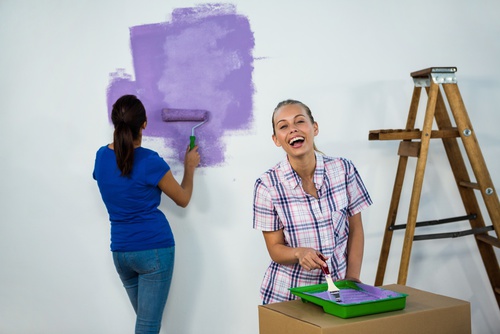 You may be one of those people who think that painting your home interior is a fun job. However, there are some things that you have to do before you get the brush or roller and start to paint away. The ideal is to first create a home interior painting checklist, so you can make sure that you don't forget anything before you start to get the work done.
First of all, you should keep in mind that when it comes to buying interior paint and all the tools and materials you need, you should invest in high quality. This makes your job easier and improves your chances of achieving a great result.
Some of the tools and materials you may need are: straight brushes, angle sash brushes, roller covers, roller handle, roller extender, roller tray, tray liners, pouring spout, bucket, stirrer, screen, sandpaper, drywall compound, primer, screwdriver, blue painter's tape, rubber gloves, safety glasses or googles, face mask, ear protectors, sponge, drop cloths, newspaper, rags, and ladder.
Here are some of the things that you need to do before you start to paint.
Remove any wall-mounted objects, rugs, outlets and switch-plate covers, window treatments, light fixtures, and small decoration objects from the room.
Use drop cloths to cover the furniture.
Fill any holes with drywall compound.
Sand the walls, and afterwards dust them with a tack cloth.
Use the blue painter's tape to cover window, door, and wall trims; and also window panes, exposed outlets and switches, HVAC vents, and any other part of the room that you don't want to get painted.
After putting together all, or at least most of, the material listed above and also preparing the room, you can start painting your home interior. However, if you think that painting may be a little bit more complicated than you thought that it would be, and you need a professional to do it for you, you can hire the service of Marshall Renovations. They will be more than happy to do the job for you and deliver an excellent final product.